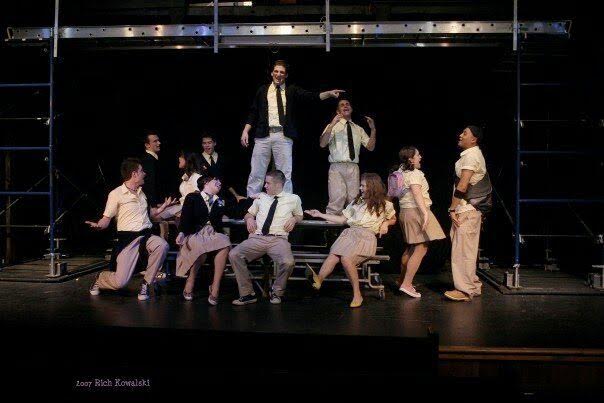 BARE is a show I have always been a fan of. Is it a "pop opera" or a "musical"? Who's to say. These days it seems the show has become a one name diva, like Cher or Madonna. Okay, perhaps that is a bit extreme, but the show holds a special place for me. See that photo above? Circa 2007, I was rocking the Catholic school uniform on stage myself. October in the USA is LGBT History Month and we just celebrated National Coming Out Day on October 11th. This is the perfect opportunity for me to ramble about reasons you should be producing this show.
1. No big budget required.
You don't need to go over the top with sets or costumes. BARE isn't about flashy lighting or elaborate sets. As you can see in the production photo above, the basis of our set was the scaffolding on the sides. That was really it. Everything else was brought on (the cafeteria table, dorm beds, school lockers, etc.) for the scenes required. You could easily perform the show with a unit set. I believe the Off-Broadway incarnation was a unit set that utilized projections, but I did not see it. I would suggest prioritizing lighting over sets, but as long as you have actors willing to tell the story you'll be able to get the job done. The production I was in was performed in an old church that still had stained glass windows. Boxes with lighting were built over the windows on the outside of the building to shine in on the audience. It was very cool and fitting to the material.
2. Casting can be diverse.
You could cast this show however you'd like. As far as I recall, there isn't anything specific in the material that would prevent casting an actor from any background. The only thing that comes to mind is a lyric Ivy sings about "blue eyes" to Jason. I covered Jason and do not have blue eyes. Brown eyes worked as well for cases like this. It's a great show for building a diverse company if your talent pool allows it.
3. The score. The score. The score.
I remember it was sometime in 2004 I got my hands on the sampler CD for the original Off-Broadway run of BARE: A POP OPERA that was to run at Dodger Stages (which we now know as New World Stages), but it never came to be. I don't remember if it was "Are You There?" or "Role of a Lifetime" that I heard first, but I was taken with the score. As I formally learned the score years later, I just became more enamored with it. I was a late addition to the company and covering the boys meant I had to have some quick one-on-one rehearsing with with the Musical Director. While I struggled to learn the Shakespeare set to music, I found myself loving the intricacies in the score. Add the musicians and some of the best singers I have ever had the pleasure of working with and it was just perfect.
4. It teaches acting through song.
There is no parking and barking in BARE. It won't work. There is too much in the material to cast great singers and plant them on a stage. You need prime vocalists who are really willing to go there. I came into the process blissfully unaware that I was going to have to truly pour my heart and soul out onto that stage. It was one of the best acting classes I ever had. One evening I ran the second act in the Jason track and by the time I got to "Cross" in the confessional, I felt so exposed I wanted to be anywhere but that stage. That night I got in the car and wanted nothing more than to be in bed. It was draining; vocally and emotionally. But most importantly…it was exhilarating.
5. The themes are just as relevant as they were.
Many will tell you that Bare is dated. Is it? I guess the top of Act Two ("Wedding Bells") may seem dated now that we have marriage equality, but past that I don't think much about it is dated. I actually believe it's still an important story that should be told. The truth is we still live in a time when things like the massacre at Pulse Nightclub happen. (I visited Pulse in August, which was a sobering experience to say the least.) There are still teenagers who are being driven to suicide, teen pregnancy, drug use, etc. You won't find theaters that shy away from dark themes presenting Bare, but I strongly believe it's a story that can raise awareness.
Visit the page for BARE HERE, where you may read more about the show, purchase a perusal or apply for a license.