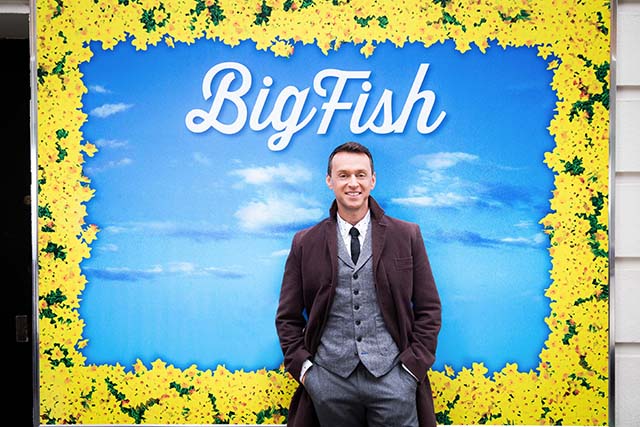 Broadway composer and lyricist Andrew Lippa recently took time to make an engaging, informative and inspiring video guide to the musical score of BIG FISH. Whether you have already licensed this brilliant show, or are considering it for your next musical, you can spend a few minutes with the composer, as he offers us a very accessible tour of the themes and styles of this magical musical.
Click the video below and share Andrew's approachable, charming, humorous and very effective exploration of how music and words combine to move this irresistible story ever forward. If you are planning a production of the show, this is an invaluable tool. If you haven't booked your production of BIG FISH yet, this quick master class with a gifted Broadway writer will inspire you to bring this beautiful new Broadway show to your community.
BIG FISH provides a refreshingly family-friendly experience, that has it all: Uplifting musical storytelling that offers community theatres and schools a new show that delivers a powerfully positive message in a wonderfully rich and innovative way. TRW has received scores of messages from theatres who have already done the show, reporting that audiences are truly engaging with this sparkling musical.
Here's the scoop: BIG FISH is a Broadway musical featuring music and lyrics by Tony nominee Lippa (THE ADDAMS FAMILY, The Wild Party) and a new book by esteemed screenwriter John August (Big Fish, Charlie and the Chocolate Factory). Based on the celebrated novel by Daniel Wallace and the acclaimed film directed by Tim Burton, BIG FISH centers on Edward Bloom, a traveling salesman who lives life to its fullest… and then some! Edward's incredible, larger-than-life stories thrill everyone around him – most of all, his devoted wife Sandra. But their son Will, about to have a child of his own, is determined to find the truth behind his father's epic tales. Overflowing with heart, humor and spectacular stagecraft, BIG FISH is an extraordinary new Broadway musical that reminds us why we love going to the theatre – for an experience that's richer, funnier and BIGGER than life itself.
Take a few minutes to share the magic of BIG FISH with composer and lyricist Andrew Lippa: