Interview with Director, Cast and Crew!
Hillcrest High School in Midvale, Utah presented the Utah high school premiere of CURTAINS, November 18-21, 2009, with a superb production. TRW's Broadway blockbuster features a book by Rupert Holmes, based on a concept by Peter Stone, with a classic score from the legendary Kander and Ebb.
CURTAINS played over 500 performances on Broadway, and received eight 2007 Tony® Award nominations including Best Musical, Best Book of a Musical, Best Original Score, Best Actor (A Winner for David Hyde Pierce), Best Actress, Best Featured Actress, Best Direction and Best Choreography. Kander and Ebb's amazing score is perfectly woven into the fabric of the unfailingly clever book.
CURTAINS is set in the brassy, bright, and promising year of 1959. Boston's Colonial Theatre is host to the opening night performance of a new musical. When the leading lady mysteriously dies on stage the entire cast & crew are suspects. Enter a local detective, who just happens to be a musical theatre fan! While solving the mystery-he also solves the show within the show.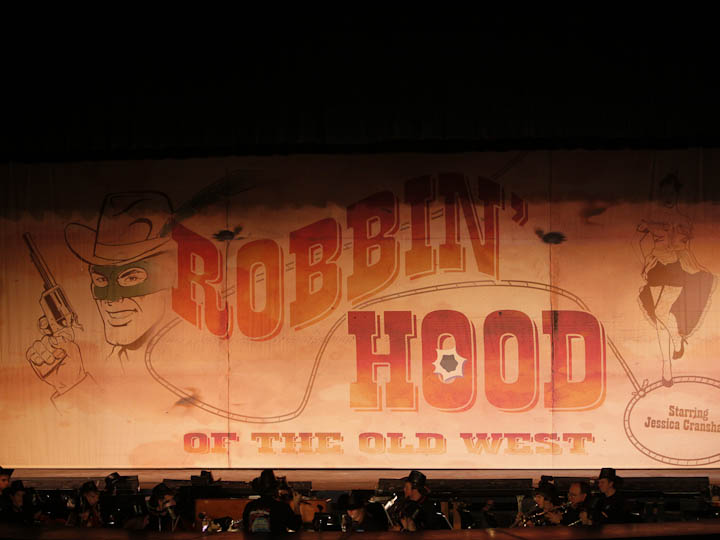 When I heard about this production from our licensing agent, Julie Abdelahad (who many of you know as the very helpful, knowledgeable and friendly customer service rep here in our NYC office),  I was intrigued by the sheer number of cast members: 230! As I investigated this high school musical I found far more inspiration, dedication and pursuit of excellence than I had ever imagined. I was delighted that Hillcrest High School producer/director Paul Winkelman allowed me to get a close-up view of his production through the words of his production team and cast.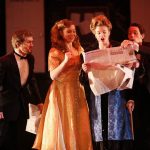 I found the words of one young actor really captured the spirit of Hillcrest's musical experience: "Hillcrest is a very unique and amazing school. The students are from ALL walks of life and just about every different background; and all these very different people have the opportunity to be in the musical if their heart so desires. At Hillcrest, if you audition, you are automatically in the chorus. This provides students that would never have opportunity otherwise to perform in front of thousands and be a part of something bigger than just school or a sports team, but be part of a family. This year we had nearly 200 students in the Curtains cast. From football players to kids in band, we had it all. In our cast, it didn't matter what had happened or was happening in our lives. We shared one thing no matter what; we love to perform and that's what united us. Those nights that we got to perform together were unforgettable. We got to dance and sing side by side with our best friends in front of thousands of people, just doing what we love. What could be better than that?"  These uplifting words came from Bayli Baker who played the plum role of Georgia Hendricks.
I recently spoke with Winkleman,  music director Renae Dalgleish, choreographer Heidi Clark Hansen, theatre director Josh Long, orchestra director Kristi Pehrson  about their production.
FS: What factors did you consider when making the decision to produce CURTAINS for your school's musical?
PAUL WINKLEMAN: When choosing a musical for our school we always look  at size of cast, what the students can learn from the experience, options for show based on student talent, community response, musical numbers, difficulty of orchestration, size of the orchestra, sets, lighting, and budget.  Hillcrest High School has a reputation of the highest quality from its fine arts department,  especially its musical production. Curtains was newly released for performance and Hillcrest High School was the first high school in Utah to perform it.
HEIDI HANSEN: Choosing the show involves a number of factors:  If the production will uplift and be educational for the student and the community; does the show have multiple roles/aspect that would meet the needs of our diverse student population and abilities;  would the show be successful in all aspects-educationally, financially, artistically…
RENAE DALGLEISH: We felt it would be an  exciting thing for our students to be the first high school in Utah to perform Curtains.  We knew it would be a challenge and felt our students  would be up for it!
JOSH LONG: We liked that it was new and fresh, it had a lot of interesting characters, and lots of opportunity for dancing!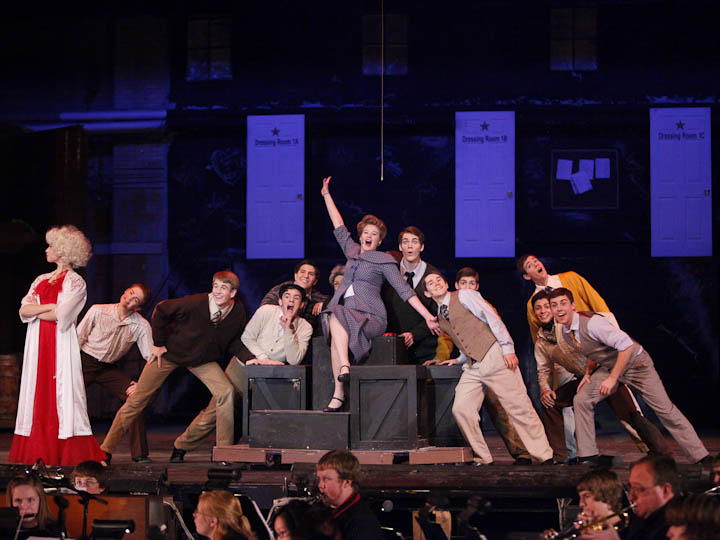 FS: Do you think your cast enjoyed rehearsing the show?
PW: In general I feel the students had a great experience. Like most students, rehearsals get long and they get tired of the process. We used positive reinforcement and explained many times the payoff of the performance will be greater than the sacrifice of the rehearsals. You could hear a lot of laughter from the cast as they developed the choreography and learned the music for the numbers. As they got more familiar with the show the more they understood the importance of their roles whether it be a lead or a chorus member.  Rehearsing  a cast of 230 plus students is very different than a cast of 30 students but this is what makes Hillcrest High School unique!
FS: I've had some big casts over the years, but…230?! Amazing! Sort of a Cecil B. DeMille version of the show…Heidi, from your perspective, did the cast grow artistically through the Curtains process?
HH: I know they did… they manifested it through verbal, physical, and written means. Most importantly, they learned how to use and perfect their talents and abilities, they learned to work hard and to work together. They learned  how to be excellent and that is success and joy at its best.
RD:  I know they fell in love with the show by the end! Of course after rehearing anything for the millionth time the kids complained , but I think most of them trusted that we pushed them because we know they were capable of being the greatest!
FS:  Were they familiar with the show?
PW:   Most of the student, faculty and community had never heard of the musical Curtains-this was a two-edged sword. Interestingly,  the local professional company in one of the cities close to Hillcrest was producing Curtains at the same time and we had to receive special permission to do our show from them. We had many comments from the community who had seen both the professional  and our version,  and everyone felt our version was professional and enjoyable to watch. You may say well that is because they were watching their own child in this production but the comments came from individuals that would come to the Hillcrest productions because of reputation not that they had members of their families in our show.  I was the only person in the production staff that had seen the Broadway production of Curtains.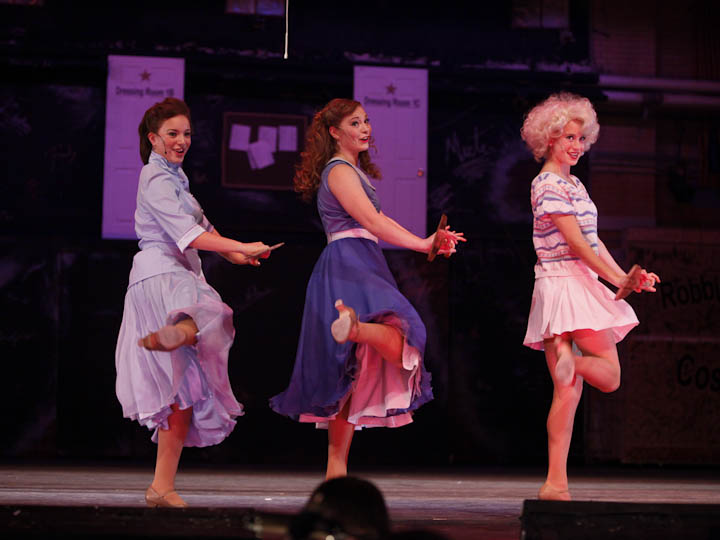 HH:   I had never seen it… so it was a pleasure for all of us to do a refreshing, new show.
RD:  And all of us were excited to do something new!
FS:  How did audiences respond to the show?
PW:  The response to the show was great!!! There were rave reviews on this production. As I mentioned,  Hillcrest High school is known for high quality productions. Many felt this production was one of the best they had seen…The energy with performers on the stage and in the aisles was electrifying and the audience loved the show.
HH:  They really loved it, and I received a lot of feedback about how refreshing it was to see a musical they weren't familiar with. Also the audience really enjoyed the humor.  It was really entertaining and engaging.
JL: Definitely. Very, very positive. I heard so many comments about how fun it was to see a new story- a story they didn't know.
FS: Your commitment is really evident from your enthusiasm. I have huge respect for all the amazing high school drama departments out there that provide this experience for so many kids…
PW:  As a production team we feel it is very important that the students receive the opportunity to be creative, be trained in dance, singing, and acting. And for the orchestra to be challenged and the stage crew learn the art of building, lighting, sound-but more than that, we teach life skills, working with others, collaboration, commitment, dedication, problem solving, hard work and what the theme of the show is and what lessons are addressed. We saw growth in every one of these cast members. The pride these students took with them was worth every blood, sweat, and tear we as a the production team felt. Watching these students develop from the beginning of the process to the end was amazing!
FS:  Anything else stand out in your mind you'd like to add?
PW:  Working with Theatrical Rights was a joy. Everyone was so willing to support and help. I loved that this licensing company understands issues within education and their communities and are able to adapt the script and music so it will be appropriate to produce in a education setting. THANK YOU!
FS: You are welcome, Paul.  And thank you all for talking with TRW today.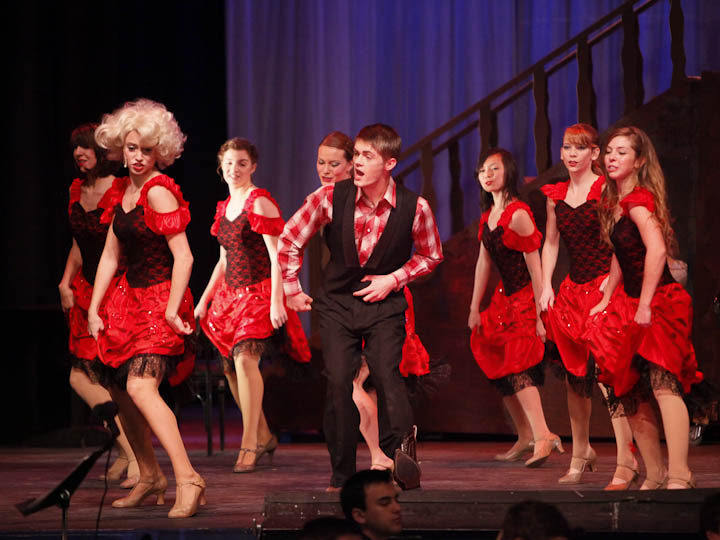 In addition to this interview, some of the many cast members from the Hillcrest production offered their comments via email. I found their impressions of the show and the whole experience of participating in their high school musical experience to be very heartfelt, moving and utterly refreshing. Here's a sample of what these wonderful young actors wrote:
"I learned  how much your dedication and determination will pay off in the end. I worked hard every day. I never threw a moment away just for the sake of having fun. In the end I was able to have the best show I've ever had in my life, and I was able to enjoy it so much more because I knew that I was prepared to give a gift to the audience." –Kent Lloyd, 'Lt. Frank Cioffi'
"We needed to uphold our school's reputation, and when we performed on that opening night, I believe we did just that. There was a magic out on that stage that can't be forced. I know that every single cast and audience member felt it. Through all the hundreds of shows I have done, I have never been so excited to go out onto a stage than I was for this show. The butterflies that normally begin hatching in my stomach were pure bliss. There were no nerves, just excitement. This show made me rediscover why I love performing and there are no words to describe the gratitude that lies in my heart for that. This past fall was one of the most rewarding and amazing experiences of my life and I know that I'm not the only one that feels changed because of this high school musical, CURTAINS." -Bayli Baker, ' Georgia Hendricks'
"I think the most important thing I learned from this show was about having a good attitude and giving your all, one hundred percent of the time.  I chose earlier on in the rehearsal process that I was going to have a good attitude and that I was going to be the hardest worker out there.  I have to admit that I definitely was not perfect about this—but it still made THE HUGEST difference.  I love this show with every part of me.  From top to bottom— the long rehearsals, the inside jokes made during downtime, the aching feet, the bruises, the people, the friends, the costumes, THE WIG !  And then:  the performance, the audience, the laughter, Saturday night.  Usually I am saying "the long rehearsals were worth it in the end."  This show I've been saying I loved the long rehearsals and then all of a sudden I get the incredible performance too!" -Rachel Edwards, 'Bambi'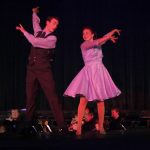 " I would like to remember the joy of performing in my life and the effect that it has had on me. In my life I want to reflect a lot on the value of theatre in everything…I want to develop my acting skills and build on my singing and dancing experience. The more practice the better! I also don't want to forget some of the laughs that I had in this show." -Vashti Musig, 'Gwendolyn Reynolds'
"Throughout the rehearsal process of CURTAINS, I learned a lot about what makes a great performance. This musical taught me to treat every single run of a number as though it were the last time I was performing it, which helped me to have more energy and enthusiasm. By doing each number full out, I improved and progressed with each rehearsal instead of merely staying at an acceptable level. I also learned how to create and connect with a character. Since I have not yet had theatre training, I had to discover ways to get in character, to think like my character thinks, and to act and react as she would. As time went on, I had more and more fun getting into that role each day and experiencing the play from a different perspective than my own."-Alyssa Myers
"What I want to remember the most about this whole experience is that feeling I got from performing what I love to do the most. Being part of the chorus may not be the most envied part, but to me it was worth everything. It made me realize just how much I really love theater and performing and just how badly I want to improve at it. The experience tried my patience, tested my scheduling abilities, and made me exhausted, but what I gained from this experience – the passion, the technical insights, and the realization of what a character really is – I would never trade for the world." -Donella Walker
"I absolutely loved being a part of CURTAINS! One of the best parts was seeing all 200 performers come together. We eventually all became a family, living and breathing together. Being in the musical was truly amazing!"-Masha Alexander
"The musical CURTAINS was such an amazing experience for me. Musical theatre  hasn't ever been an activity that I specifically wanted to pursue until it became apart of my daily schedule  for three months! I not only learned how valuable it was to be in a cast with other performers but also the power that a group of 200 other student can create on the stage. I can honestly say that I fed off of their energy and by the finale I was nourished. I feel that the experience I had as a cast member in CURTAINS is by far the most memorable of all my high school experiences I have had thus far."-Ellie Vawdrey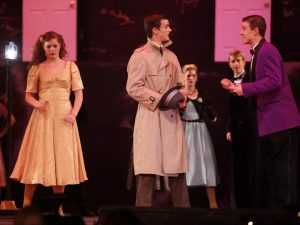 "Being a part of CURTAINS taught me so much and is a highlight of my high school career that I will always remember. I learned the value of a positive attitude, how that works in a group dynamic, and what can be accomplished by a collative, positive work ethic. Because there was such a variety of students working together in this musical, I got a chance to meet many  peers that I would not have had a change to meet working with these newly met people towards a common goal allowed the cast to bond as a whole. It amplified the experience and ultimately make the gift of what CURTAINS had to say much more effective for our audience."-Karine Johnson
"Being in CURTAINS was such a great experience for me. I have always had a strong, fiery passion for musical theatre and this was the first musical I was in. CURTAINS holds a special place  in my heart."-Shelby Hixson
"The directors not only taught me how to rise to the occasion of performing but many other life skills including how to be competent, patient, and positive. I now am constantly striving to set an example for my peers through my actions and work ethic. At the close of this wonderful musical, all I can say is 'its an honor and a joy to be in show business!' "-Annie Oakeson
"My experience in the musical CURTAINS was spectacular. Rehearsals were frustrating at times but I would always think of how on opening night when everyone's adrenaline is pumping and our hearts beating faster than it ever has… How great it's going to feel to see the audience's smiling faces as we race down the aisles or onto the stage singing and dancing the opening number 'Wide Open Spaces.' I learned that I can do so much more with my life, be more successful, with only a couples hours of my day dedicated to one thing."-April Wardle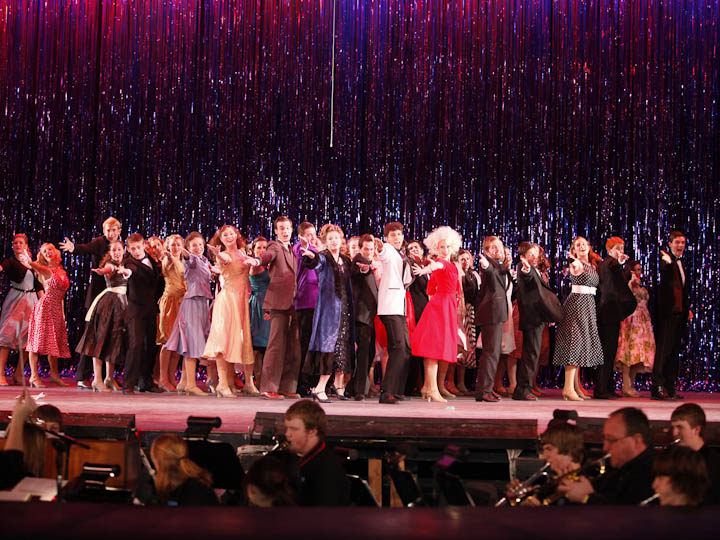 "Performing in CURTAINS was one of the most memorable experiences! I learned how to manage my time wisely, to be prompt, and to always give it my best. Watching the cast grow together was amazing!  I would do it again in an instant."-Alicia Vielstich
"CURTAINS the musical was the best high school experience I have had so far. I met so many new people, learned so many new songs to dance and performing each night was a different experience and fun. Being in the musical taught me that it's important to know your priorities and commitments. I am so excited to do the musical next year. I look back and wish I could do CURTAINS again. Hopefully we inspired people who saw this show."-Lacy Bergstrom
"Performing in the musical CURTAINS was a wonderful opportunity for me to share my talents and grow. Before performing in this show I never realized how much I love musical theatre. Not only did I learn to singing, dancing and acting skills I also learned what it takes to have a phenomenal show – hard work, cooperation and positive attitude." -Madeleine Homer
"Each year of my high school experience I have been involved in the annual musical. As a senior, CURTAINS was extremely fun and memorable. Rehearsals were long but worth it. My favorite part was performing on stage. I love acting like I hated Jessica Cranshaw! Overall dancing is my passion and I LOVED dancing in this musical!! I was able to dance as a cowgirl, show person, saloon girl and…a mermaid! Each character was unique and special. If I were to suggest any musical  for high school CURTAINS would be it."-Meagan Payne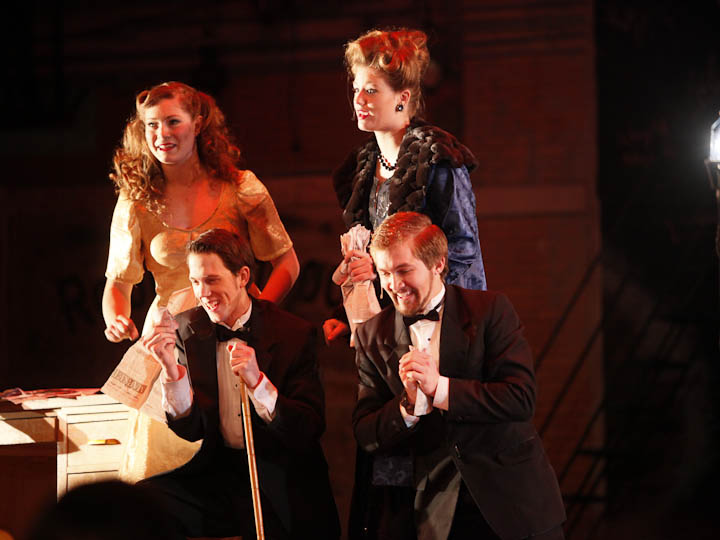 "The more obvious lesson of CURTAINS is the importance of the arts in our society. In the song "Show People," the lyrics perfectly expressed the joy that performers feel during a musical. I could take each and every one of those lyrics and apply them to myself and my cast mates as I was preparing for our performances. There is no feeling in the world as purely blissful as performing for an audience. The joy and eagerness of the characters of CURTAINS can reflect the joy that audiences should have when viewing a performance, supporting the theme that the arts really do have a huge effect on our society.  I cannot even find the words to describe how passionately I loved having this experience. Nothing in my life has brought me such a feeling of joy and fulfillment, and I learned so many things that I can use both in the theater and in my life. I am so immensely grateful that I was able to participate in something that touched and inspired so many audience members, and I am very excited for next year, so that I can have this experience again!"-Lauren Carter
My thanks to the entire cast for sharing their comments with TRW's StagePage. For more information on licensing CURTAINS, please visit the show page.