TRW and BookTix are proud to announce that the entire TRW catalog is available on BookTix Live!
BookTix Live is a dynamic, comprehensive, reliable, secure and controlled ticketing and delivery platform for live stream viewing of performances. Now, alongside in-house ticketing, musical theatre groups can offer live stream ticketing to their audiences, who can gain exclusive access to individual, live performances of TRW musicals at home. BookTix Live allows theater companies to not only sell tickets for their events, but to provide the secure technology platform and support to stream and view the show as well. Click HERE to learn more about BookTix Live!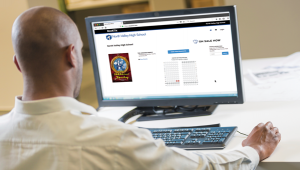 Take advantage of all BookTix has to offer to increase ticket sales and elevate customer service with our professional level ticketing system for FREE! TRW encourages you to sell tickets online with BookTix to: Save time, save money and reduce headache.
BookTix is a simple, low cost box office solution for theaters, drama clubs and dance schools looking to sell tickets online. BookTix offers organizations the infrastructure audiences expect when purchasing tickets without all of the expenses that prohibit smaller companies from offering online sales.
With free equipment and hundreds of unique features – tiered pricing, reserved seating maps, coupon and promo codes, advance priority sales, flex-tix, season subscriptions, collecting donations, selling merchandise, will call printing, patron marketing analytics, ticket scanning, mobile redemption, and more we know you will be impressed!
BookTix is currently only available in the U.S.
Visit BookTix to setup a demo