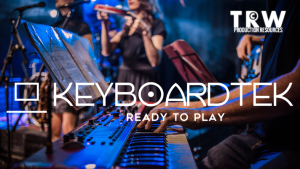 KeyboardTEK Has Keyboard Programming for TRW titles!
Electronic instrument programming provider KeyboardTEK offers professional patches for keyboard, drum, and percussion books for our entire catalog of musicals.
KeyboardTEK offers the world's most complete catalog of MainStage® keyboard programming and hard-to-find keyboard patches for your next musical production. High-quality samples and original samples mean that your show will sound like the Broadway show, regardless of your theater or budget. With nearly 300 titles and original programming by the industry's top professionals, we'll make you sound like Broadway in your own backyard!
KeyboardTEK works with the original music team and orchestrators of many Broadway, West End, and National touring productions to make available the original sounds and patches from musicals and programs them into the industry standard, Apple's MainStage® application. With its easy-to-use interface, KeyboardTEK creates a nearly exact replica of the original sounds that can be used by any theater. "Sound is an integral part of creating the atmosphere of a show's setting. By using KeyboardTEK, you know you are setting the atmosphere of the show the way the authors intended" says Kevin Roland, one of the KeyboardTEK founders and CEO.
KeyboardTEK's services are programming is available for TRW shows such as THE ADDAMS FAMILY, JERSEY BOYS, BRIGHT STAR, THE PROM, SPAMALOT, THE COLOR PURPLE, BIG FISH, WE WILL ROCK YOU and many more. This vital product is designed to fit within any theatre's budget, making impressive professional enhancements accessible to all groups using live musicians.
KeyboardTEK is customer focused and offers assistance and support 7 days a week to any theater in the world who licenses programming from them. Founders Taylor Williams, Ethan Deppe, and Kevin Roland, who make up the TEK in KeyboardTEK, have a combined 40+ years in the industry and have worked tirelessly to modernize the procurement of electronic music programming and make it accessible to every theater in the world regardless of size and budget.
Check out the full list of shows with patches at KeyboardTEK's website at www.keyboardtek.com.