Making the switch from costly traditional scenery in your next production is worry-free – and guaranteed to save you money.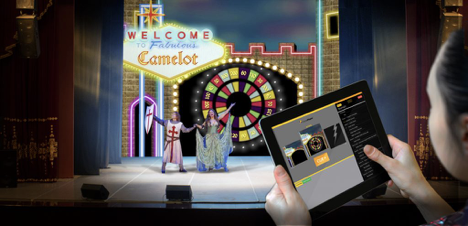 Theatrical Rights Worldwide has partnered with world-renowned design and production specialists, Broadway Media, to offer stunning digital scenery at affordable prices. A large selection of TRW shows have Scenic ProjectionsTM packages available to help enhance your production design. All titles that have Scenic ProjectionsTM available are listed below.
Scenic Projections
Elevate your production with script-accurate animated scenery that's affordable and easy to use.
Imagine being able to use Broadway-quality digital scenery without the Broadway-level expense or expertise: Scenic ProjectionsTM by Broadway Media allows you to license official scenery packages for many of the most popular TRW titles at an incredibly low cost – perfect for the time-strapped teacher, or for combining with traditional scenic elements to take your production to the next level.
Scenic ProjectionsTM – carefully created in partnership with Theatrical Rights Worldwide – is a collection of full-show digital scenery packages that follow the official licensed script. Broadway Media's industry-leading projections are available in a variety of styles and moods to meet the demands of your show, including beautiful 3D motion graphics and animation. Designed to make great production value simple and more affordable than traditional set design, Scenic ProjectionsTM combines Broadway Media's free, easy-to-use projection cueing software with beautiful artwork that includes all the scenes, settings, and special effects in the script. If it's in the script, it's in Scenic ProjectionsTM!
KEY FEATURES
Our projections follow every scene, setting and magic moment in the script, guaranteed.
You get instant rehearsal and performance materials through one easy-to-use app.
You save money compared to the materials cost of a traditional set, or physical backdrop rental.
Learn more about Scenic Projections for TRW shows on Broadway Media's website.
Scenic Projections PRO
Map your projections with customizable scenic elements to create a professional, immersive production.
For organizations and theatres with advanced projection capabilities, Broadway Media also offers Scenic Projections PRO. These script-accurate scenery packages feature mappable scenic elements, textures, weather animations, and additional resources.
KEY FEATURES
Compatible with media server mapping and professional media management tools.
Quality, layered artwork and video files.
Additional projection resources for professional-level production values.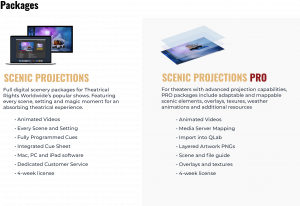 Learn more at Broadway Media
Available titles include:
THE ADDAMS FAMILY – School Edition
AWESOME ALLIE FIRST KID ASTRONAUT
GHOST THE MUSICAL – School Edition
GHOST THE MUSICAL Small Cast Edition
MONTY PYTHON'S SPAMALOT – School Edition
MONTY PYTHON'S SPAMALOT Young@Part®
RING OF FIRE Small Cast Edition
RING OF FIRE Small Cast Edition
SATURDAY NIGHT FEVER School Edition
WE WILL ROCK YOU – School Edition
Watch this video on the Guyer High School production of THE ADDAMS FAMILY to learn more about Scenic ProjectionsTM.